Opava, 26. Opava, May 26, 2023 – In 2014, we accepted the challenge from Danish construction company JV Värtahamnen HB, a subsidiary of Per Aarsleff A/S, to supply tongs designed for gripping and rotating 10-ton concrete blocks by 180 degrees in a suspended position during the construction of piers in Stockholm. Our experienced engineers approached this technically demanding task with ingenuity and created a revolutionary solution. The result is tongs with hydraulic drive, allowing for the expansion of tong arms and the rotation of jaws around the horizontal axis to the desired position. What sets these tongs apart is their suspension on a large mobile crane and their own independent diesel generator, providing a separate power source. This generator powers the hydraulic system pump and also serves as a power supply for the remote control used to operate the tongs. Despite not being the most economical solution and limited to one-time events in the construction of specific ports, these tongs significantly ease the difficult and hazardous work for construction workers.
After nine years, a new port is being constructed in Varberg, Sweden, and due to the need for a larger quantity of concrete blocks, Per Aarsleff A/S approached our company to reconstruct the tongs, which had been out of service for nine years, to meet the new requirements. Our technicians embraced this challenge with enthusiasm and confidence. We transported the tongs to our facility in Opava, where a thorough service was conducted. Repairs were made to the diesel and hydraulic units, including the replacement of hydraulic cylinders and hydraulic oil distribution systems. The tong arms were extended by approximately one meter, and new jaws were manufactured to accommodate three types of concrete blocks.
After successfully completing functional tests with outstanding results, we are delighted to state that our company offers not only the production of new non-standard handling equipment but also the ability to perform reconstructions on used tongs, providing our customers with a wide range of services. We are pleased to see a great interest in these services from our customers, contributing to the expansion of our portfolio.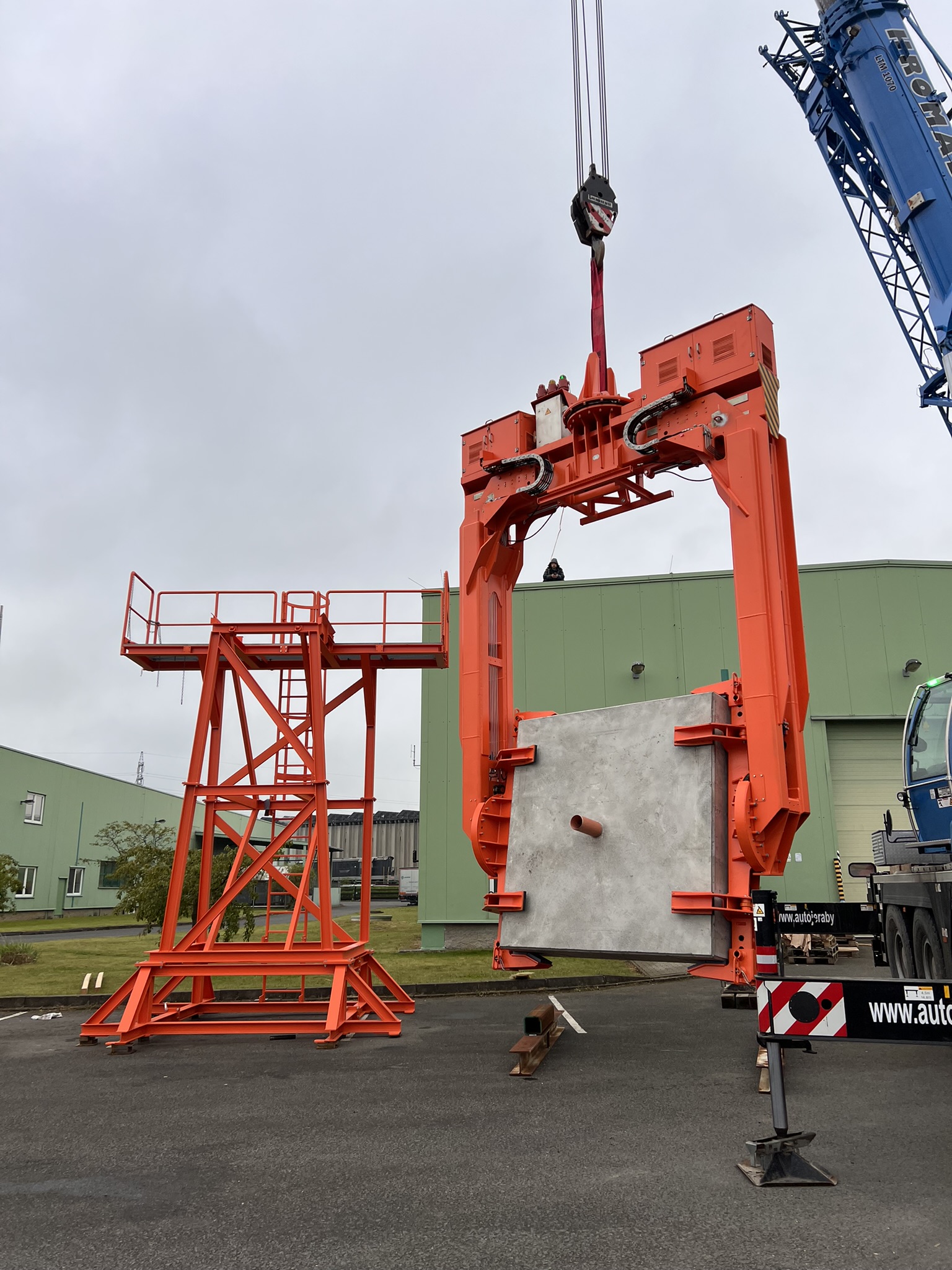 Our company takes pride in our technological innovations and the ability to adapt to the specific requirements of our customers. We are proud to have contributed to the efficiency and safety in the construction of ports and handling of heavy concrete blocks. Our professional teams of engineers, technicians, and service specialists are ready to undertake any significant construction project and ensure the satisfaction of our clients.
Stay updated on our rapid growth and be informed about our latest innovations in the field of construction technology and load handling. We are ready to push the boundaries of technical possibilities and bring revolutionary solutions to your projects.